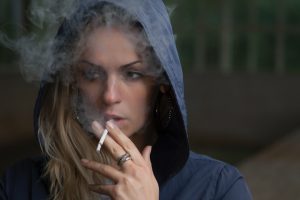 Just like most fitness and health issues, the connection between smoking and weight loss varies dramatically from individual to individual. I've heard all types of stories from clients at Next Level Fitness in Irvine, CA, which included gaining weight when people quit smoking to people finding it easier to lose weight when they quit. The truth is every person has their own unique experience. Some studies show people who smoke heavily are more likely to be obese. Other studies show that when people quit smoking, they gain weight. What are the reasons for such diverse findings?
Obesity and smoking go hand-in-hand.
While the average smoker may weigh less on average than people who have never smoked, not every smoker is thin. People who smoke more cigarettes daily tend to weigh more than people who aren't heavy smokers. If smoking made people thin, heavy smokers would weigh far less than others. Studies show obesity and smoking may be genetic predispositions. Smokers may have a bigger waistline. Some believe it's a gene variant that causes the larger waist circumference and belly fat. Others believe it's from smoking, which triggers the release of cortisol that may cause an increase in waist circumference.
Does quitting smoking cause weight gain?
If you quit smoking, you may gain weight, at least for a while. Studies show one of every four people who quit smoking never gains a pound, plus they can breathe easier, making it easier to exercise. Other studies compared people who quit to those who continued to smoke. During a five-year study, people who quit gained 5.7 pounds more than those who continued to smoke. It was the average and people who were heavier smokers gained the most. Most of the weight gain occurred in the first three months of quitting.
Does smoking speed up your metabolism?
Most people who smoke feel a little buzz when they first light up, especially if there is a significant time between cigarettes. It's true that smoking boosts the metabolism, but not enough to make a big difference. What smoking does is keep your hands busy and gives you a boost of dopamine and other chemicals that reduce the desire to eat. Some smokers eat less and smoke instead of eating, which is why they're thinner.
Quitting smoking doesn't make it harder to lose weight if you make lifestyle changes and stick with them. Whether you're a smoker, a former smoker, or never a smoker, it's all about developing healthy habits.
The results of several studies showed approximately 16% of the people who quit didn't gain weight, but lost weight. On the other end of the spectrum, 13% gained more than 22 pounds.
Smoking does affect your sense of smell, which then affects your sense of taste. When you quit smoking, food tastes better. It's much like giving up sugar, which makes naturally sweet food taste sweeter.
Following a program of regular exercise and a healthy diet can help prevent any potential weight gain and make quitting smoking easier. Exercise can increase dopamine, which is similar to the boost experienced when smoking.
For more information, contact us today at Next Level Fitness