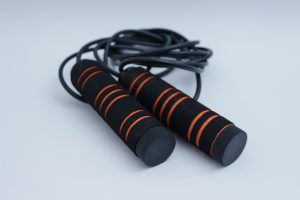 Sometimes, it's almost impossible to go to the gym or maybe you're simply not ready. Some people find they're so out of shape that you simply can't start a workout program. The good news is that there is cardio you can do at home to get you started on the path to fitness. It's also a great way to supplement a program of working out or fill in on those days when you can't make it for your regular workout.
Grab a jump rope or a hula hoop.
You don't have to get complicated to get the benefit of a cardio workout. If you've ever jumped rope for any length of time, you know it can be extremely wearing. It doesn't take to long before you to be out of breath if you're not in good shape. Just ten minutes can boost your cardio endurance. A hula hoop, especially a weighted hula hoop, can also be part of your cardio program. Hula hoops, like jump ropes are inexpensive and fun to do.
Jogging in place can add to your endurance.
You can warm up by jogging in place and add some moves that really boosts your endurance like marching and lifting your knees high while moving your arms, jumping jacks, squats and lunges. The key is to do them fast with little rest in between. You'll be sweating and breathing hard quickly, so pace yourself enough to get in a ten minute workout at least.
Try a HIIT workout.
You don't have to use a specific exercise, even walking can be a HIIT workout. HIIT stands for high intensity interval training. It means you do an exercise at top intensity for a while, then drop back to a recovery or slower level for that same length of time or longer and back to high intensity. HIIT workouts are the quickest way to get back into shape and you can even use walking for the exercise. That makes it easy for anyone wanting to get into shape.
Get strength training and a cardio workout at the same time. If you have weights or resistance bands at home, by using a circuit training technique for strength training, you can get a cardio workout.
Do you have steps in your home? Running up and down a flight of stairs provides a great workout for your cardiovascular system. If you have clothes to take to a lower level laundry, run a few items at a time down and get two things done at once.
Jumping up on a box or slightly higher area can provide a workout. Either jump with both feet together or omit the box and do a lunge jump landing on the opposite foot.
Flatten your tummy and get a cardio workout by doing mountain climbers and other bodyweight workouts. Even a plank can boost your cardiovascular endurance.