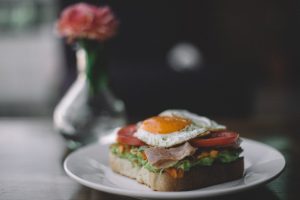 You may know that a healthy breakfast will get you off to a good start, but taking the time to make it doesn't quite fit in your schedule. Well here's a great idea. Make those breakfasts ahead and even eat them on the run. It's time to bypass that donut and get some healthy meals to start the day, without taking a lot of time for preparation. Here are some easy breakfast sandwiches you can freeze and eat later. Just prep them on the weekend and enjoy them the entire week.
Start with the basics.
You need some type of bread, eggs, vegetables, chicken or turkey and cheese. The bread can be your choice. Top choices include whole grain or sourdough English muffins or their bread counterpart, flax bread, oat bread or sprouted bread. Eggs will be your protein, but you can also add chicken or turkey and cheese if you want. Saute your vegetables first and then add them to the scrambled egg mix. You can increase the veggies to your morning meal by topping with a tomato, greens or onion after you heat it in the microwave and are ready to eat.
Make a basic egg mixture.
Start by preheating your oven to 375 F. Use cooking spray on a 9X13 pan. Mix eight large eggs or if you're cutting back on fat, six large eggs and four whites of large eggs. In a large pan, put a tablespoon of olive oil, heat and saute a small onion diced, a cup of broccoli, a cup of slice mushrooms, two cups of chopped spinach, a clove of garlic, black pepper and salt to taste. You can substitute other vegetables, such as red bell pepper. When cooked, add to egg mixture and pour in a large square pan, cooking for 20-30 minutes. Cut the eggs in squares to put on the bun or use a glass to cut circles for a more finished appearance.
Finish the sandwich and freeze.
The egg mixture makes six sandwiches. Use any type of bun or bread you want. I prefer sour dough English muffins, but the choice is yours. Put a square or round of the egg mixture on, top with a slice of chicken or turkey or some cheddar cheese if you like. Put the top on the sandwich, wrap it in tinfoil and store in an airtight container. You can freeze the sandwiches or store in the refrigerator in an air tight container for the next morning or later that day. When ready to serve from the freezer, remove the foil, put on a microwave safe plate and cover with a paper towel, heat for 60-90 seconds until the cheese melts.
When you reheat the breakfast sandwich, save the tinfoil. Rewrap the sandwich with it to eat on the run.
When sautéing vegetables, do the onions first. If you're adding kale, pepper or spinach, cook it separately to avoid "steaming" the other vegetables with their water contents.
Keep your breakfast sandwiches healthy. Avoid processed cheese, use real cheese. Try some chicken sausage that's organic and low sodium.
For variety, you can use whole wheat pita bread or make a breakfast burrito. Add your favorite topping after you warm the sandwich, such as lettuce, raw spinach, tomato, or avocado.
For more information, contact us today at Next Level Fitness