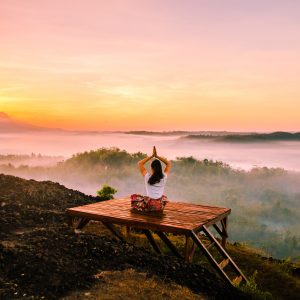 You probably notice when you don't brush your teeth in the morning before you leave for work. In fact, if you forgot, you may even stop at a store to buy a toothbrush and toothpaste to brush when you get there. That's because it's become a habit to brush before you leave and if occasionally you forget you simply don't feel right. You can follow a quick morning routine to help you get into shape, lose weight and stay fit. Don't try to do everything at once.
Start your day with a big glass of water.
If you want to ensure you drink at least eight glasses of water a day, start early and spread them throughout the day. You'll get your system percolating when you drink a glass or two every morning. Cold water can actually burn extra calories. One study involving women who were overweight found that when one group increased their water intake by about one liter, they lost over four pounds in a year, without doing anything else. Can you imagine how that could boost your results if you're eating healthy and working out?
Eat plenty of protein for breakfast.
Eating your Wheaties or some other cereal may be what you're used to doing, but you won't get very far on those nutrients. Most are just carbohydrates that you burn quickly. Instead, make protein a big part of your morning. It can actually fill you up longer and keep you feeling satisfied enough to avoid snacking in the morning and afternoon even if you eat a light lunch. Studies show that a high-protein breakfast can help you lose weight and avoid weight gain.
Workout in the morning.
Maybe you don't have time for a full workout, but just doing a few exercises can help. For those that workout in the morning, they find it's an easy way to get into the workout habit and the activities, emergencies and business of the day doesn't get them sidetracked. It can get your blood circulating and boost your energy getting your ready for the stress of the day.
Take a minute of gratitude and mindfulness. Take five minutes in the morning and first be thankful for all you have. Next just sit in quiet contemplation getting in touch with your senses. Mindfulness can help you lose weight by being more aware of what you're eating. It's one reason yoga helps.
Pack a healthy lunch in the morning. If you're just starting a program of healthy eating, why not make sure you make your lunch healthy, too. It can improve the nutritional value and reduce caloric intake.
Go to bed a little earlier than you normally do. Not only can that extra sleep help keep your hunger hormones in line, it gives you more time to do a morning routine.
If you're not sure of the foods you need to prepare a healthy sack lunch, what food to include in your breakfast or just want a place to workout that provides guidance, we welcome you to try out, we welcome you to try our one week free trial.