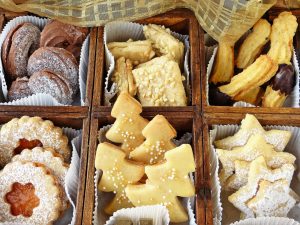 From the end of November to the end of the year, there's a bounty of sweets to tempt you and too many activities that take away from your workout schedule. It's a new year now and time to get back on track and if you haven't started a fitness program, time to start one. People in Irvine, CA who get back into the habit in January are glad they did. Not only does it help them stay fit and lose weight, it also helps lift those after holiday blues.
You control the type of year it will be.
Whether you're going to have a year of regret or one of victory is your decision. It takes focus and determination, which eventually turns into habit. Even if you ate an entire tin of cookies or cleaned your plate several times at one meal during the holidays, it's a new day and time for you to take charge. Start by focusing on cleaning up your eating habits. It's going to be tough, especially since a lot of holiday food is loaded with sugar. Start by planning menus and making food ahead for the week, including snacks, so you won't be tempted to sneak those sugary treats into the grocery cart or be tempted to get carryout on the way home.
While you're focusing on planning meals, don't forget to add exercise to your schedule.
It's easy to skip a workout when you haven't put it in your schedule. There never seems to be enough time in the day to do it. That's why adding it to your daily schedule and making it an appointment with the gym is so important. Just like scheduling your workout, scheduling your meals and eating at a specific time can help, too. Try to maintain continuity throughout the week, even on the weekend. It will help get you into a routine.
If you're getting back in the groove, don't try to pick up where you left off.
The older you are, the quicker your body loses muscle tissue. If it's been a month or so since your last workout, you'll be surprised at how much strength and endurance you've lost. Ease into the first few workouts, doing less than you did before you quit for the holidays. You'll save yourself the potential of injury and the super sore muscles that can cause you to skip your next workout. You'll be able to get back to your workout within a few weeks without injury.
Don't forget to get adequate sleep. You may have skipped critical hours of sleep during the holidays. Not only does that affect your energy, studies show that lack of sleep can cause you to gain weight.
Don't forget to drink plenty of water. It's tougher to drink water during the winter months, but you can still get dehydrated during the winter months. Make sure you drink 8-eight ounces of water a day.
Don't just rely on the gym for exercise. Have fun with the family or exercise when you're watching TV. Going out dancing and taking walks add to your workout schedule.
When you get back to the gym or start a fitness program, you'll realize just how great it feels to burn off the stress of the day with a program of exercise.
For more information, contact us today at Next Level Fitness