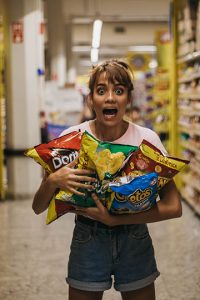 Some foods we list on healthy meal plans at Next Level Fitness in Irvine, CA, contain trans fat. Don't let that scare you. There are two types of trans fat, and they react in your body quite differently. One is naturally occurring trans fat created by bacteria in the stomach of ruminants like sheep, cows and goats. It may have heart healthy benefits. The bad type of trans fat was initially created in a lab to extend the shelf life of oil. This hydrogenated fat was a cheaper alternative to fats like butter and it was used in many products. Artificially created trans fats have a negative effect on health and cholesterol profile.
Manmade trans fats occur in many junk food items.
While a little natural trans fat won't hurt you, and may be healthy, the acceptable amount of manmade trans fat is ZERO! The manmade trans fats were intended to increase shelf life of products, but they don't increase your life. They're associated with clogging your arteries and increasing your risk for heart disease. You'll find these trans fats in pastry, microwave popcorn, non-dairy creamer and fast foods, to mention just a few.
Manmade trans fats may increase your risk of diabetes, in addition to increasing the risk of heart disease.
Besides increasing artery-clogging bad LDL cholesterol, there may be a link to diabetes and manmade trans fats. A study that included 80,000 women showed that those who ate the most trans fats increased their risk of diabetes by 40%. Other studies showed that there may not be a link, but the problem may have occurred due to the types of foods that contained trans fats and their links to insulin resistance and blood sugar levels. In animal research, the potential to harm the glucose function and insulin function did occur. The studies found trans fats may cause insulin resistance, which is a precursor to diabetes.
Chronic inflammation can lead to arthritis, diabetes, metabolic syndrome and heart disease.
There are studies that show that man made trans fats may increase inflammation, particularly in those who are obese or overweight. Several studies show that trans fats linked to inflammatory markers if the fat was manmade. In fact, when using margarine, inflammatory markers increased, but not when using natural butter. They may also damage the endothelium–the interior lining of blood vessels.
One study replaced saturated fats with trans fats in a diet for four weeks. That resulted in impairing artery dilation by 29% and lowering the HDL—good cholesterol—levels by 21%.
Most studies show that when eaten in moderation, natural trans fats may provide health benefits. Dairy, for instance, contains vaccenic acid and conjugated linoleic acid (CLA), which can boost the immune system, decrease body fat and slow tumor formation. Grass fed dairy increases the beneficial CLA.
Manufacturers are allowed to label their products trans fat free if they contain 0.5 grams of trans fats per serving. Even if the nutritional labeling says no trans fats, it could be deceiving if the serving size is far less than you'd normally eat. Think cookies, chips and microwave popcorn.
At Next Level Fitness, we can provide healthy meal plans that will limit your intake of trans fats, particularly those artificially created.
For more information, contact us today at Next Level Fitness