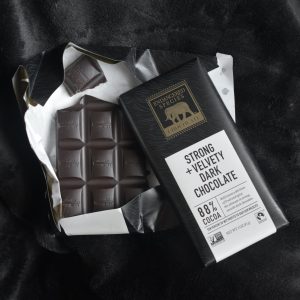 You don't have to eat cardboard flavored biscuits to get healthy, there health benefits from eating dark chocolate. That's right! Chocolate can be good for you. However, you must remember that the amount you eat and the type of chocolate makes a difference. Not all chocolate is created equally and the healthy kind is the dark chocolate. It has less or no milk added and far less sugar. Less milk means less interference with the absorption of the polyphenols found in the cocoa bean and more of it. Dark chocolate also has a better healthy fat profile.
The antioxidants in dark chocolate can provide protection from free radicals.
Free radicals cause damage to the cells and the more cell damage you have, the more potential there is for illness and aging. Dark chocolate has polyphenols and flavonoids, plus other antioxidants. It offers more than wine and green tea. However, you need a higher percentage of cacao/cocoa in and dark chocolate to get the benefits. Chocolate that's 70% or higher is best. Usually amounts above 80% taste too bitter to enjoy.
Protect yourself from cancer with dark chocolate.
Again, the flavonoids and antioxidants come through to protect you. While the flavonoids can help keep your body healthier, it's especially beneficial to help prevent colon cancer. Animal studies showed that consuming dark chocolate reduced the growth of cancer cells and their spread. Dark chocolate also reduced inflammation, oxidative stress and blocked the cancer cell growth.
Dark chocolate is heart healthy.
You get several heart healthy benefits from dark chocolate. It has the polyphenols that are antioxidants and is high in healthy fat. In fact, eating small amounts each day could potentially improve your cholesterol profile, reduce inflammation and decrease platelet activity and prevent clotting. It helps reduce blood pressure and increase blood flow to both the brain and heart, too. An 11-year study of 20,000 people showed that people with higher chocolate intake had a lower incidence of cardiovascular disease.
Dark chocolate consumption may improve blood flow to the brain and potentially lower the risk of Parkinson's and Alzheimer's. One study showed food like dark chocolate, high in flavonol, improved cognitive performance and brain function.
Dark chocolate consumption may reduce the risk of stroke, in addition to reducing the risk of heart disease, since chocolate in your diet could reduce the risk of high blood pressure.
One study showed subjects in a study improved visual acuity and contrast sensitivity after consuming dark chocolate, but the study was small, so more are needed to identify how chocolate could improve vision.
The flavonols in dark chocolate already touted for their many health benefits can help protect your skin from sun damage. It can improve hydration, boost blood flow to the skin and reduce skin roughness.
For more information, contact us today at Next Level Fitness