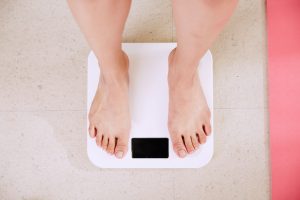 The average person losing weight takes off between a pound and two pounds a week. It might seem slow and you may want to opt for more rapid weight loss, but is that wise? It took a long time to put on the weight and the excess weight often occurs because of the decisions you make throughout the day. You might be eating the wrong foods, living a sedentary lifestyle or even lacking adequate sleep. If you focus on losing weight fast, you're apt to go on a extremely calorie restricted diet that can't be maintained for long. To keep weight off, you need to make lifestyle changes and that takes time.
Building muscle and losing fat takes time.
In order to lose one pound, you need to burn 3,500 more calories than you consume. That can occur by eating fewer calories and burning more via exercise. If the average person eats approximately 2,000 to 2,500 calories with moderate exercise to maintain weight, cutting 500 calories a day will help you lose a pound a week. In order to lose more than two pounds a week, your diet would have to be between 500 and 1,000 calories a day, which is extremely low and can cause you to lose less fat and more lean tissue and water weight.
Rapid weight loss can be helpful for short term goals.
If you're trying to take off that last five pounds before a reunion two weeks away or if you have a doctor's monitored quick-start diet, rapid weight loss can help. It can get you started on the road to success. The quick-start diets aren't meant to be used more than a week or two and use safe principles to make healthy lifestyle changes. After the first two weeks when you lose approximately eight to ten pounds, you start a normal diet regimen.
You lose water weight when you opt for rapid weight loss.
Your body is primarily composed of water, containing approximately 65%. When you lose weight rapidly, most of the time, you're losing water weight. It can lead to mild or serious dehydration that can affect your health. Losing weight rapidly also causes loss of muscle mass. The more muscle mass you have, the higher your metabolism is. Losing it slows the metabolism, which is counterproductive.
There are some situations where health issues require rapid weight loss, but it's done under the supervision of a physician and monitored closely.
If you try to lose weight too fast, you could develop gallstones. When you aren't eating much food, the digestive juices don't release and the substances in the juices form stones, since it sits for a while.
Rapid weight loss often results in yo-yo dieting. You may lose the weight but it keeps returning. By changing your diet and exercising regularly, you can consistently lose weight and keep it off permanently.
Rapid weight loss can result in nutritional deficiencies. Those can cause immune system problems, dry skin, hair loss, brittle bones and more. Eating a diet rich in whole foods, which are lower in calories, can help prevent it.
For more information, contact us today at Next Level Fitness