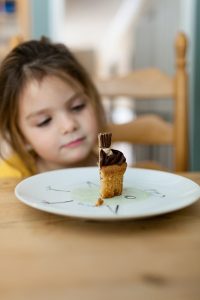 Eating a small bowl or a few spoonfuls of ice cream won't hurt you. However, eating a gallon a day can really pack on the pounds. That's a bit of an exaggeration to show how much portion size can affect your weight loss program. With most healthy eating programs, vegetables like celery and fresh fruit portion isn't a problem. They're packed with fiber, so it's difficult to eat many calories, since they fill you up without adding a ton of carbs or calories. Nuts, sweet potatoes avocados and olive oil may be healthy, but here, their high caloric nature means you have to pay closer attention.
Paying attention to portion size is particularly important for snack foods and sweets.
If you've ever looked at the nutritional information on a bag of Cheetos, you'll notice that one serving is about 13 Cheetos. That's not very much if you're grabbing handfuls out of the bag. The same is true of candy, donuts, cookies and other sugary treats. Read the labels. Learn to measure foods without labels with your hands. One level handful of nuts is one serving. One serving of pasta is a heaping handful. A serving of peanut butter is about two fingers. Starchy foods, like peas, corn and potatoes use a fist to measure.
If you're using a traditionally sized plate, you can measure portions via the plate.
While it's recommended people use a smaller plate when eating, to make it look like they have more food, you can also use that plate as a measure for portions. Your protein portion of the meal, whether it's meat or a vegetarian option, should be about a fourth of the plate. The same is true of complex carbs. Salads and vegetables should be half the plate and high fat foods should only be 1 ½ teaspoon of the meal.
Don't supersize it and expect to lose weight.
Restaurants are notorious for larger portion size. The concept of super-sizing at the drive-through may have added to the growing weight of Americans. There is often one exception to the rule and that's very expensive restaurants, but with traditional mom-and-pop restaurants, they want to give you your money's worth serving anywhere from double the portion size to as much as ten times it. Keep your portion size in control by asking for a small size or child's portion, sharing with a friend or using sides or appetizers as your main meal. Shrimp cocktail, a side vegetable and a side salad can be quite filling.
Use your thumb to measure when it comes to fat. One thumb of fat for women and two thumbs for men is the right portion. I guess that's really the meaning of "rule of thumb."
A fist is about a cup of food. The thick part of your thumb is about the measure of an ounce. A teaspoon is about the size of the tip of your index finger and the palm of your hand is about the size of a 3 oz. serving of meat, fish or poultry.
Other ways to check portion size is using everyday items. Your photo ID or driver's license is the size of a serving of sour dough bread. Make two stacks with two SmartPhones each and that's the minimum portion of vegetables.
Let portion control guide the type of food you choose. You only get ¼ cup of fruit juice, compared to a ½ cup of cut up fruit or a whole medium fruit. The whole fruit will fill you up faster than the fruit juice.
For more information, contact us today at Next Level Fitness