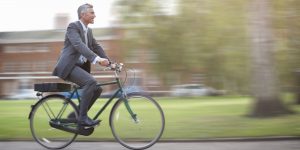 If walking isn't fast enough for you or completely boring, consider an alternative and start bike riding. There's a lot of reasons to ride a bike. First, it's great transportation. You can get quite a distance on a bike without the same amount of effort it would take running and it's also far faster. It may even be faster than taking a car if there's a traffic jam you can weave through and won't have you sitting waiting for a bus, just to end up blocks from your destination.
Riding a bike is good for your health.
Bike riding is low impact, so it's good for people with conditions like osteoarthritis, since it doesn't put stress on the joints. There are fewer injuries than found with running or other high impact sports. Cycling can get your elimination system moving and help prevent colon cancer. It also is shown to reduce breast cancer. Cycling is also helpful in preventing heart disease and diabetes.
You'll burn calories and fat when you cycle.
Not only will you burn loads of calories, you'll also build muscle. The more muscle tissue you have, the more calories you'll burn 24/7. That's because muscle tissue requires more calories to maintain than fat tissue does. While you still have to eat healthy, if you're burning extra calories riding, you'll lose weight. It all depends on the intensity and how fast you ride and your weight. Cycling can burn as few as 400 calories and hour to as many as 1000. Just think, if you hopped on your bike to go to the store twice a week, instead of taking a car, in less than a month you could burn off one extra pound of weight.
Save more than just the environment when you ride a bike.
You'll not only get exercise when you ride a bike, you'll save money, too. There's no cost for fuel! In fact, if you live close enough to work, you might use your bike as primary transportation, saving insurance cost, fuel, car payments and maintenance. That can mean thousands of dollars yearly. Use Uber, a bus, taxi or rent a car for those rare times you need a vehicle. Don't sell your car right away! Start with a little at a time until you feel strong enough for most daily journeys.
Be aware that you still need some weight bearing exercise to help fight osteoporosis.
One study showed that people who rode a bike inhaled less pollution than those riding in a car or walking. It came from results from an air pollution device attached to walkers, bikers and car drivers in the same area.
You'll sleep better at night. Like most types of exercise, biking provides a good night's sleep. The sounder your sleep, the healthier your body.
Biking can improve brain health. One study showed that circulation to the brain increased by 28 percent. Even after that the blood continued to stay increased by as much as 40% after biking was over.