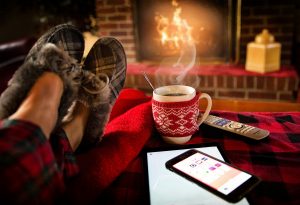 Sure winter isn't exactly beach time, but you don't have to stay indoors. Maybe the sun is shining less, which can cause you to feel more like staying in bed, but when you get up and get going, you'll feel better. If you follow a few bits of advice, you can stay healthy this winter. It's good to put our weather in perspective. In Minnesota, the weather we're having in Irvine would seem quite balmy. We don't have mountains of snow like they do in the Northeast or near the Great Lakes, so getting out and traveling is far easier here. One key to staying healthy is to continue to stay active and most of all, have fun.
Get outside to stay active and soak up some vitamin D.
It may be overcast and cloudy, maybe even a bit damp, but getting outside and walking might be the best thing for you. Walk to lunch to get your circulation moving. While the Holiday Ice Rink is closed, there are lots of other things to do, like the many festivals. Even better, fire pits at the beach and cuddle up to your sweetie on Valentine's Day. Walking in the sand can be great exercise. Get out and see botanical gardens, the walk in the sun will do you good. Consider taking a ride in a hot air balloon to keep your heart pumping. Don't skip a session at the gym just because you feel depressed or out of sorts.
Eat healthier to stay healthier.
Eating healthy is the key to staying healthy in the winter. Load your plate with fresh fruits and vegetables and make healthy eating more than a goal. Make it an adventure. You'll boost your mood by eating foods high in Omega-3 fatty acids, those high in B-12, folic acid and vitamin D. Check out fresh berries for help dealing with stress and most of all, cut out sugar. Make your winter adventure with food more enjoyable going to the Certified Farmers Market every Sunday at the Orange County Great Park. They even have a food lab and if you're interested in growing your own produce, Master Gardeners that offer tips.
Get plenty of sleep, but don't overdo it.
Most people tend to burn the candle at both ends, unless of course, it's winter. Those chillier, shorter, rainy days can make you want to take to the bed. Getting the right amount of sleep can be tricky if you're prone to that. Remember, more than 9 hours might indicate something is wrong or you're suffering from depression or a physical ailment. See your doctor. You need at least seven to nine hours. Adequate sleep allows your body to repair itself and plays a role in blood vessel and heart repair. That's why a lack of it is linked to heart disease, high blood pressure, kidney disease, stroke and diabetes.
Drink plenty of water. You may not feel like drinking more water in the winter, but you still need it. Get an average of eight 8-ounce glasses a day.
Steer clear of those sugary treats even more in the winter. While you might want them more, stick to naturally sweet fruits instead.
Smile more. Even if you're only acting, a smile makes you feel better. Laugh out loud whenever you can, it's good for your health.
Wash your hands frequently, especially if you're in a crowd. That may sound so simple, but washing your hands can help prevent the spread of flu, colds and other types of illnesses caused by germs.