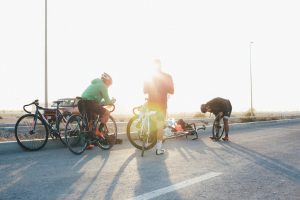 This time of year is perfect for exercising outside. It's cooling down, so even riding a bike or running is comfortable. There are a lot of benefits to enjoying the outdoors as your gym, so I'm always thankful that I live in this climate, where it's not icy cold and snowy. Getting extra sunshine is good for the body and the mind. It's a relaxing way to enjoy the beauty of Mother Nature, while soaking up the vitamin D from the sun.
I love the tranquility of the outdoors.
Not all outdoors is tranquil, you have to look for it. If you live in the city, find a park to visit to help get away from the noise. Those who live in less crowded surroundings may find just walking in their neighborhood relaxing. If you're in the park or somewhere with grass, take off your shoes and enjoy some earthing. Earthing connects you to the ground when you're on the soil or grass, rather than the pavement. You don't have much time to exercise beyond your visit to the gym? Try taking a walk at lunch and eating a sack lunch in a quiet area that has plants and privacy.
You'll be amazed at the connections you'll make when you walk in your own neighborhood.
If you walk on a daily basis, you'll start saying hello to the same people every day. The walk could be to your favorite coffee shop, to the grocery or just around several blocks. It's a great opportunity to meet your neighbors or make new friends. It's a social exercise time, which could widen your group of friends and acquaintances. If you're new to the area, it's a great way to meet neighbors.
Enjoy the fresh air.
Air conditioning is definitely nice on those super hot days of summer, but it's nothing like the pleasure of fresh air and sunshine on a day when temperatures are in the low 70s. It's not only the perfect time to go outside and enjoy your surroundings, it's a great time to let the weather into your home. Open your windows and let the breeze flow through to get rid of the stale odors, mold and bacteria. It can even help reduce dust mites and boost your concentration.
Exercising outdoors can lower your blood pressure and heart rate significantly. It helps revitalize you and reduces your tension levels.
Choosing a run outside can be far better than running on a treadmill. It's not as boring and the irregular terrain helps burn more calories.
You can boost your vitamin D level if you spend some time exercising outside. You need an average of 10 to 20 minutes of sun three times a week to have adequate blood vitamin D levels to boost your immune system.
The personal trainers at Next Level Fitness will be happy to develop a program that combines workouts in the gym with supplemental outside activities and exercises.
For more information, contact us today at Next Level Fitness