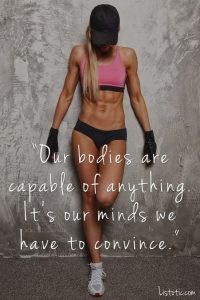 Whether it's a busy life or just plain lack of desire, it's not always easy to make it to the gym or stick with a healthy eating program. You need to find out what your motivation to be healthy is and keep that in mind when you find your day out of control or simply are out of sorts or tired. Motivation can stem from anywhere. It may be to have the energy to accomplish all your goals or be healthy and enjoy every minute with your child or grandchild.
Why would you want to stay healthy?
That's a question that you need to ask yourself before you start on your road to fitness. Weight loss may be your first thought, but why lose weight. Maybe it's to look more attractive, but that's not all. Feeling better is often a huge motivation. When you look good, you feel good and when you feel good, you look good. They're intertwined. Focus on how you'll feel. Focus on the energy you'll have, especially when it's time to go to the gym. It's amazing that when you workout regularly, you actually have more energy than ever.
Knowing your motivation isn't enough. You have to act on it.
Once you know your motivation, you need to make a goal. While your doctor may have told you to lose 30 pounds, you won't be able to do it all at once. Instead, break that big goal down to smaller easier to manage goals with a time frame to achieve that goal and a way to do it. It has to be realistic. The thirty pounds could be broken down to losing two pounds a week by exercising and eating healthy. Be specific, set a time to go to the gym and lay out plans to create weekly menus for healthy eating, with a shopping list.
Even with the best motivation possible, it's not always easy to stay on track.
Sometimes it helps to have a workout buddy to keep you on track and focused. If you have a health condition that you're trying to overcome, make sure your buddy knows about it. Your friend can help you eat healthier, too. Enlist the help of your family, too. Whether it's losing weight or struggling with health condition, getting help from your family or a good friend is important. Sometimes, you need to be held accountable and whether it's a workout buddy or a family member, it can help.
If you can, make your week's worth of food on the weekend, so if you're on a time restraint during the week they're ready to heat and eat.
Consistency is key. Even if you have to take smaller steps, do them consistently until they're habit. Once you have that step as a habit move on to the next one to get healthier.
Getting healthy isn't an all or nothing proposition. If you eat too much unhealthy food one day, it's not the end of the world. Your mission is too important. Go right back to it the next day.
No matter what your motivation to get healthier, you need to include more than just exercise and healthy eating. You also need adequate sleep, thankfulness, laughter and hydration, just to name a few.