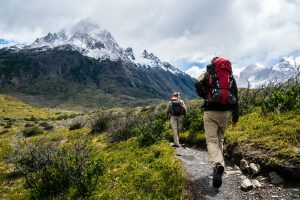 With all the noise and nerve racking urgency of living in the big city, it's nice to get back to nature and go on a hike. Hikes can vary from a short day in a nearby wooded area to traveling to a remote location that takes several days to reach. What you bring on a hike will vary by location, the amount of time you spend and the weather in that location. You also need to know how remote the location is and whether there is any type of access to cell networks or supplies along the way.
There are some essentials you need for every hike, even for day trips.
Even if you aren't planning on staying out after dark, have a headlamp with extra batteries, just in case. If the area is sunny, have sunscreen, sunglasses and clothing to protect you from the sun. A change of clothing and first aid kit are also important. Take a GPS device and personal locator beacon, a map and compass.
The deeper into the woods you go, the longer the hike and the worse the weather, the more you take.
If your hike is longer than an afternoon or expecting more radical weather changes or inclement weather, you need more clothing, more food, more water and definitely shelter. Pack at least two days of extra food and water beyond what you expect to use. It can make the difference between surviving if there's a sudden change in weather or an injury Energy bars, nuts and jerky are good options. They're lightweight and don't require cooking.
Having adequate water is important.
Dehydration can be a problem, especially in higher temperatures and on rougher terrain, where your body works harder. However, water is extremely heavy to carry, so you have a conundrum if your trip is relatively long. If you've planned ahead and are hiking along a known trail, you already know whether there are fountains to refill bottles on the way. Have a collapsible cup and a way to treat water, either straws or tablets, or by boiling, which requires a stove and container for storage.
A lot of things can cause a need for a change of clothes, even for day trips. If the weather suddenly turns cold and wet, you want lightweight layering that's insulated and waterproof. Extra socks, gloves, and underwear shouldn't be neglected, either.
An emergency shelter doesn't have to take up a lot of space. It can be an ultralight tarp, space blanket or a large trash bag. Lightweight ivy sacks can cost under $10 and weigh about 4 ounces.
Making sure you have a method of starting a fire is important. Take matches or lighters in a waterproof container. There are fire-starting kits available that are lightweight and easy to use.
Taking repair supplies, like duct tape, zip ties, safety pins and cordage is also important. A portable cell phone charger can also be an important addition to your gear. As an extra precaution, always give someone an itinerary of your hike.
For more information, contact us today at Next Level Fitness